Dumbbells are probably the best instrument if you are planning to strengthen up your muscle, and when you achieve a muscular body, the satisfaction is unmatchable. Dumbbells have always been the part of muscle building exercise as it helps you build your muscle gradually. The workout with dumbbell mainly focuses on one part of the body which is an efficient way of training and it quite useful to enhance the power of your body.
While working out with a dumbbell, every limb of your workout area progresses independently thus helping you to evaluate the strength of your core muscles. However it is important for you to work out in a proper way otherwise, it may lead out to no result. Most of the people use a dumbbell in an abrupt way which often leads to cramp, so it is always recommended to follow the proper manner of dumbbell workout.
You may think it is strenuous and painful to have a well-built muscle, but it is a wrong perception, you just have to follow a strict pattern along with healthy diet. Losing excess fat is an essential part of the muscle building program although this could be easily solved by regularly exercising with a pair of dumbbells. However, you should also follow other activities to build a shaped body that will complement your well-developed muscle. Having a shaped muscle with a flawed body will be of no use so you should also do other workouts but the main focus should stay on dumbbell exercises.
[ads]
Dumbbell Exercise That Will Bring the Best Out Of Your Muscle
The following list will guide you in practicing some best dumbbell workouts that will help you to build toned muscles:
Goblet Squat With Dumbbell –
This is an efficient and fruitful dumbbell exercise that can be done by anyone. It won't matter even if you are new to muscle training because the moves are quite easy. This particular work out mainly turns on the glute and also enhances thoracic mobility and hip. You just have to hold the dumbbells in front your body and then sit in the squat posture and again go back into the previous position.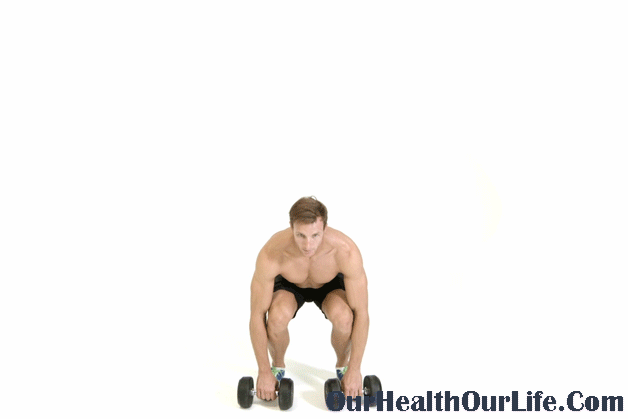 Dumbbell Clean –
To do this exercise, you have to go down into a squat position and put the dumbbell in on the front area of the foot. Then you have to flip the overhand grip while bringing weight to your shoulder and then you to continue this workout in a jumping manner. Power lifters mainly do this work out, but you can include them as it increases the blood follow in the glutes, shoulders, arm and hamstrings that enhance the length of the muscle.
Farmer's Walk With Dumbbell –
You just have to hold the dumbbells in your both hand and place the hand side by side. After this, you just have to walk in rapid steps, and you can continue this walk as long as possible. It is very simple but strenuous although you won't have to think about any proper technique. This short step walk with dumbbell will pump the rotator cuff, but it won't affect your shoulder.
Bent Over Row With Dumbbell –
If you opt for this particular dumbbell workout then it helps you building most of the muscles of the top portion of the body. Biceps, Lats, rhomboids, and traps are also affected because when you slightly bend down in your knee and move your upper body, they tone up the muscles. While you make a to and fro motion with the dumbbell up to your chest, it affects the muscle that gives a V-shaped body.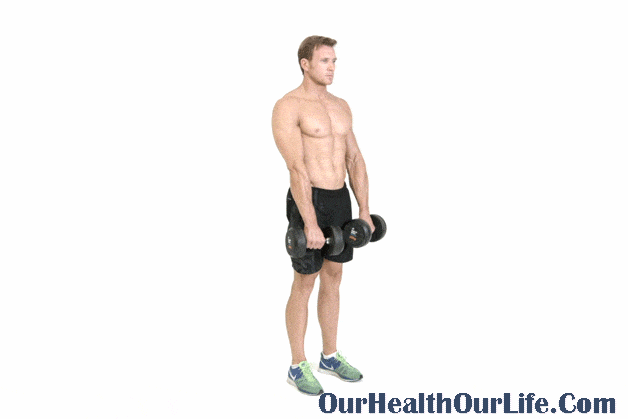 Stiff Legged Two Arm Dumbbell Deadlift –
This workout has some similarity with bent over row exercise however here you have stiff your knee while working out. You have to try to reach your feet by holding the dumbbell and then move back to the original position. It helps in building your lower body muscles and lowers the hip and back injuries.
One Arm Swing With Dumbbell –
In dumbbell swing you just have to use your arm for swinging, but you have to sit in squat position and move the dumbbell into and fro motion. The swing will take place between your leg while you should lean forward and then move it in front your body. You can also use adjustable dumbbells for better grip. It strengthens the shoulder, posterior chain, lower back muscles, and quadriceps.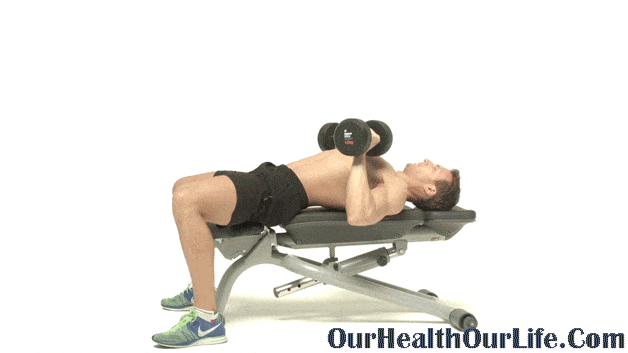 Bench Press With Dumbbell –
This is a regular muscle workout, but it is probably one of the best workouts that can be done by anyone. You just have to lie down on a bench and put your hand side by side and move the muscle up and down. It mainly affects the upper portion of the body that gives you pumped up the chest.
Cross Body Hammer Curl –
Body Hammer Curl follows the rule of divide and conquers as it helps you build each arm one by one. You just have to curl one arm toward the opposite should and then repeat this process with another arm. This helps in putting the needed pressure in each arm that produces active neural drive which in turn grabs many muscle fibers.
Step-Ups With Dumbbell

–
This step-up exercise helps in the creation of large amount gluteus thus enhancing the major muscles starting from the hip. You will hold the dumbbells on your side and step on the box with one foot and then step back while putting pressure on moving feet. It also enhances the power of small muscle joints.
Scaption With Dumbbell

–
In this exercise, the shoulder and Lats get profoundly affected causing enhancement in muscles. It protects the surrounding area of ligaments and shoulder joints.
Final View
Exercising with a dumbbell is an easy and efficient way of building up your muscle, and the above work out are some procedure to achieve a proper built up muscle.
This information has been compiled from the reflections of the following specialists:
Santanu Majumdar is a part-time blogger and currently blogs at healthresource4u.com . He is also a health and fitness lover who loves to share her ideas on health, fitness and beauty.
You can check the best adjustable dumbbells.